A Dream to a Goal to Reality : The Summary and Aftermath of Release The Butterflies
The long road to success is forged by dreams, plans, sweat, blood, hard work and good friends and family and sacrifice. It is truly a battle of will.
You battle everything. You're in a fight with somethings you can't control. Time. Weather. People. The one thing you can control, but you're still going to be in a fight with is yourself and the decisions you have to make.
There is never enough time to do everything that you want to do - even if there is a set date for completion. Sacrifices must be made, even if a lot of effort has been put into the preparation of all things. Things happen and there is nothing else you can do but sacrifice for the greater good of all other things.
The weather is never going to be what you want it to be. It's going to rain when you need it to be sunny, it's going to sunny if you don't care if it rains. It's going to be too hot or too cold and then in the end you're going to find yourself praying or asking some unseen entity for a stroke of luck that the weather will turn out what you envision in your mind.
There are going to be people that are going to be late, can't make dates,or are too busy, or can't make it at all at the last moment. People have lives too, the world does not evolve around your success / failure, it simply makes room for it. Be happy for those that help you and be fortunate enough to have those that care enough to hold you up as you reach for the top. Brush off your shoulders of the ones that waste your time, that don't understand or see the importance of your goals especially the ones that seem to be under-educated and take too much of their time to process the important moments of yours. Don't bother yourself too much with the ones that decide to steal your time and delay your endeavors. Everyone has their own lives. Everyone has their sad stories. Everyone has their own goals, dreams, and realities.
As time came closer to Art show, I was asked what was my Goal for the art show.
I could not answer this question for myself. I only hoped in the pursuit of my goal, that I would be able to bear fruit and seeds of success to those who helped me. But when I was asked for the goals of myself and the art show I became a bit speechless. My goal was to simply have an art show. It was the one biggest goal. It was the only goal I needed.
This art show was me coming out as an artist. To say that I maybe the youngest artist in Vancouver of more than one dying art form is a sad statement. It truly is. I would like the Asian Vancouver community who are in their late 20's and mid 30's to ask themselves how many friends or family members they are acquainted with of their own generation that they know of that still studies or practices the traditional Asian / Oriental Arts / Fine Arts?
The saddest realization for me as an Chinese Canadian adult is the ability to see the disappointment of my parents generation in my generation due to large cultural loss. My father is very proud and happy that I came out as an artist but is still a bit disappointed in me that I can't write Chinese poetry or prose's on my Chinese paintings. I among many Chinese Canadians know that we are simply facing a new generation of difficulties and must now seek out innovative solutions to evolve ourselves to adapt.
Although I'm not a CBC = Canadian Born Chinese. I'm pretty close to it. Most of the time it feels like we are either being judged for not being able to speak or read Chinese, and if we did, we were too Asian for other social groups. But during the preparation of my art show I also began to see the difficulties of the Chinese Canadians who immigrated here and are now in their late 60's to 80's who survived solely without having the ability to speak English. As I translated and spoke to a man who was looking for calligraphy materials in a Chinatown shop I realized and began to worry about the transitioning of our communities. Realizing that the store owners around my parents generation that are still able to speak more Chinese and English are now in the age or going into the age of retirement. The Chinatown shops or even Lower mainland Chinese cultural shops would be lucky to be replaced by those who have the ability to speak both.
I should not worry too much of myself on things I can't control. But what I can.
I really wonder what those who visited my art show came away with and would be happy if they could comment in this post their thoughts.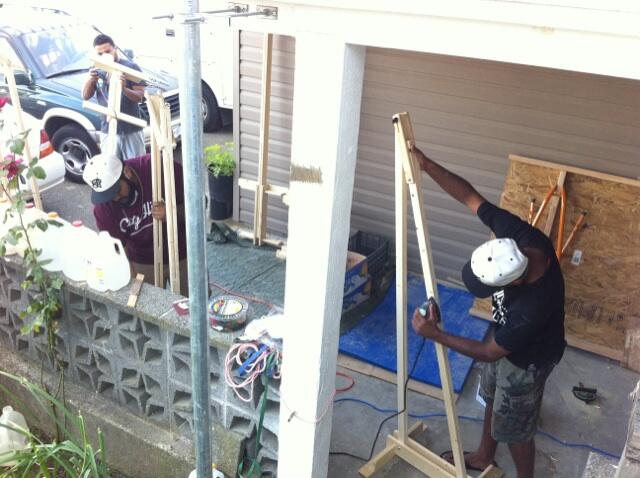 Desi Method Crew to the rescue sanding easels
Vik orchestratingpicture frame jenga, photo by: Brian Quan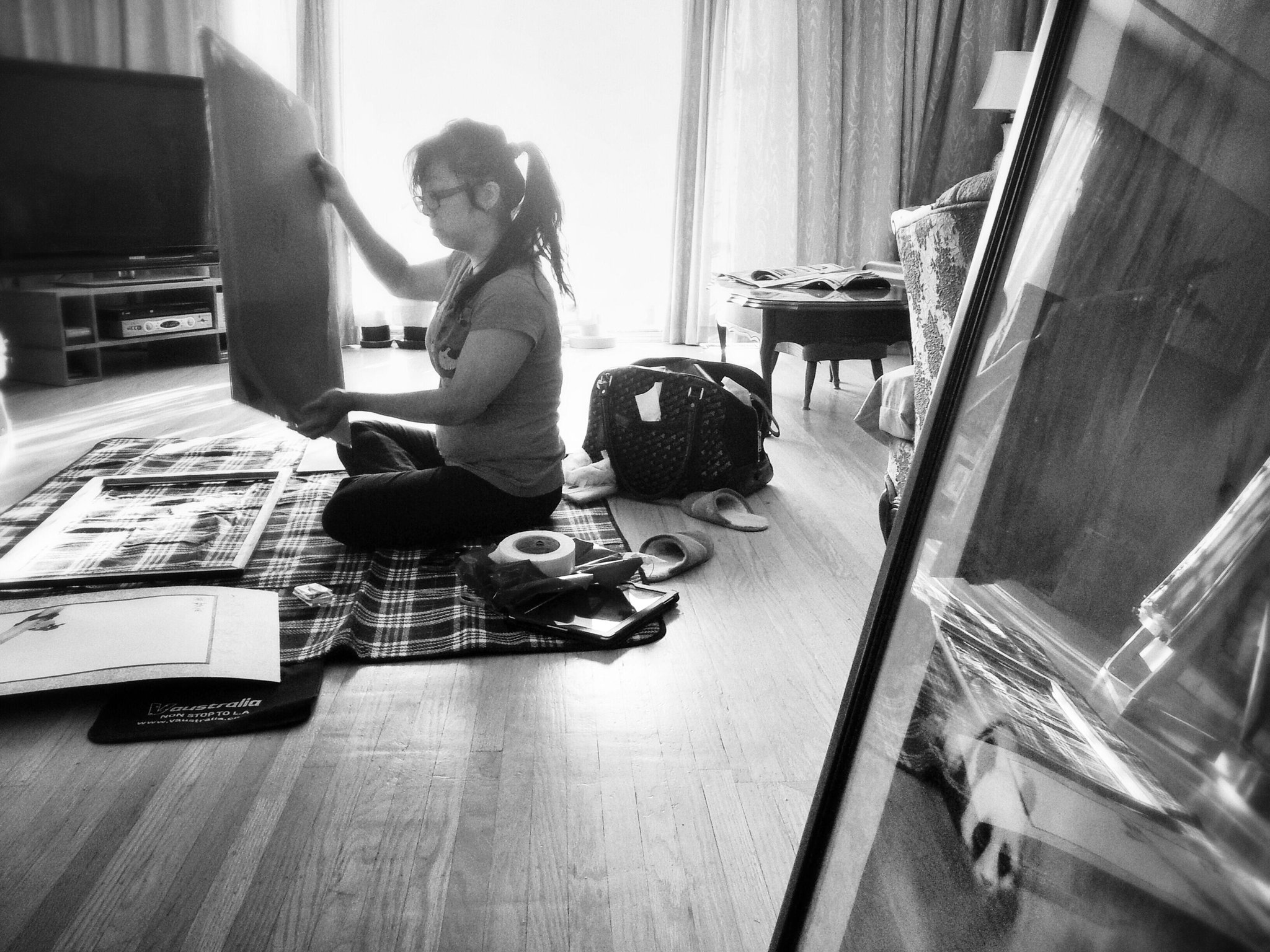 T-46hours framing of the artwork, photo by: ThinkVik
During my art show I met a few people who seemed very happy and at the same time surprised I was still so young. Perhaps the idea of when someone says they have 18 years under their belt - others expect someone much older. To me, I am older. I've been getting "You're so young" comment since participating in my first collaborative art show at the age of 21-22 by then I already had 11 years of artistic knowledge under my belt. Being young simply gives me more time to master the art forms. At the same time I no longer feel I am young because all my teachers have either passed away or retired from teaching.
I was asked weeks and days before the show if I was excited that it was all happening. A part of me felt like there was something wrong with me that I didn't. I didn't feel the excitement. I was more stressed out and worried more than anything. Perhaps I was too busy in working towards the show to be excited for the show. I felt during the process to it happening, emotions were high and I was simply getting on people nerves and others getting on mine. During the making of this event my friends were fantastic and came through for me and it was more than I can ever ask for. My heart truly thanks my selective family ( The Jang's) and their neighbors for putting up with me weeks before the show during the building of the easels and art frames.
I don't think I can thank Vik and Brian enough for their work and devotion in making it happen and making sure everything ran smoothly and the sacrifices I know they made as well. We were running on little or no sleep and carried on fueling ourselves the rest of the day purely on what little we did eat during the day and simply feeding on the energy and idea of running a great show. I felt like I wanted to do a group speech and peep talk before the show even happened or even after shortly it ended - but there wasn't enough time during the day of. I'm so happy to have had different groups of my friends meet together in this one event. I'm glad my friends Shalini, and Chris (member of Soul Harbour) performed at my show. In the end me and Vik were a bit sad we didn't get a chance to take a picture of the whole staff together as this was a large accomplishment. The show didn't end for us at 10 pm, like all past events I've had the pleasure of working in my teenage years I knew that wrap up would take us to the early mornings of 1-3am. I'm not too sure if Vik and Brian and Brandon expected it to but I'm very glad to have such great men in my life help see this through.
| | |
| --- | --- |
| | |
| Bio of SzeYun Lo, Photo by: SzeLan Lo | The main floor, Photo by: Brandon J. |
| | |
| --- | --- |
| | |
| Photo by: Jeremy Lim | Photo by: Jeremy Lim |
To view more images:
Click Here
Getting published in the Singtao Daily was certainly a high light to the show. It was a pleasure meeting Laura Sun.
http://news.singtao.ca/vancouver/2013-07-15/province1373882580d4596324.html
It's been a little more than a week since the show has ended.
An inventory of what is still available for purchase is now online with prices:
https://squareup.com/market/szeyun-lo
Although now well rested the work for the show has not stopped as I'm now working on thank you sponsorship packages.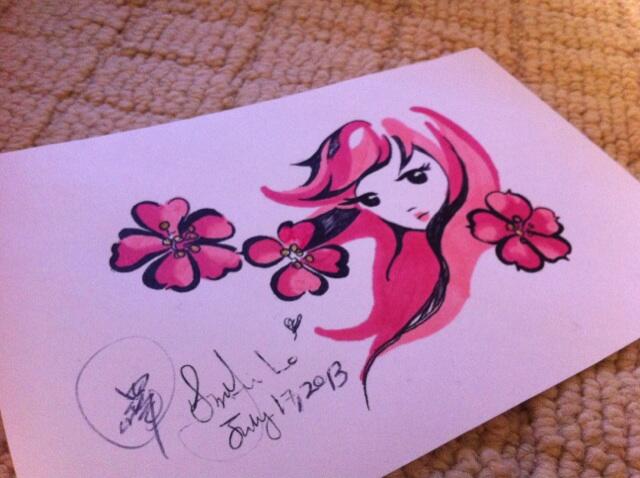 Wrapping up the final invoice of the venue, summing up the funds collected and calculating the distribution of funds collected for the supporting charities.
I had hoped to raise more money for my charities, but not everything turns out the way you expect to and you simply have to learn to accept and be happy with what you're given. Especially if you're just going to give what you've been given - away.
Thanks again to all sponsors and supporters of Release The Butterflies. Truly there would have been no show without them. Thank you to all who came out to support the show. I hope you all enjoyed it! Till next time.
Life goal #14. Hold An Art Show ( My Art Show ) - DONE